For your accommodation in hotels, we recommend hotels located in the city centre near the bus stop République. There are several Hotels ranging from two to four stars located between the train station and République (Le Victoria, Kyriad Rennes center...). From there, bus n° 4 (direction Beaulieu-Atalante) or bus n°6 (direction Cesson-Sévigné) will take you to the conference venue (University of Rennes 1-Campus de Beaulieu) within 10-15 minutes. Stop at "tournebride".
You may use this link to book your hotel:
http://www.tourisme-rennes.com/en/ReservationCityBreak.aspx?culture=en&ysrch=yes&geoid=6146&regionid=-1&day=30&yearmonth=6%7C2014&nights=3&rooms=1&adults=1
If you prefer, there are also hotels located at walking distance from the university (Hotel Campanile Rennes Est-Atalante and Hotel Ibis Cesson-Sévigné).
University residences for students on Beaulieu Campus (31 Avenue Professor Charles Foulon 35700 RENNES) will offer accommodation at low cost. Student residency rooms (one single bed with sheets, private bathroom with shower and toilets, free internet access via wifi) is located at walking distance of the conference site (see picture). You will have the opportunity to choose this type of accommodation during the registration process. Please, note that the room should be payed directly to us before May 10th. Room reservations will not be possible any more after May 10th.
To go to the student residency from railway station: take metro direction "J. F. Kennedy" stop at "Republique" then bus 4 direction "Beaulieu Atalante" stop at "Beaulieu restau U". To pick up your key, please go to "B" on the following map. The reception of the student residency (B on the map) will be opened during all the night. Beakfast will be served from 7:30, without tickets, at the "Restaurant universitaire de Beaulieu" (see on the following map).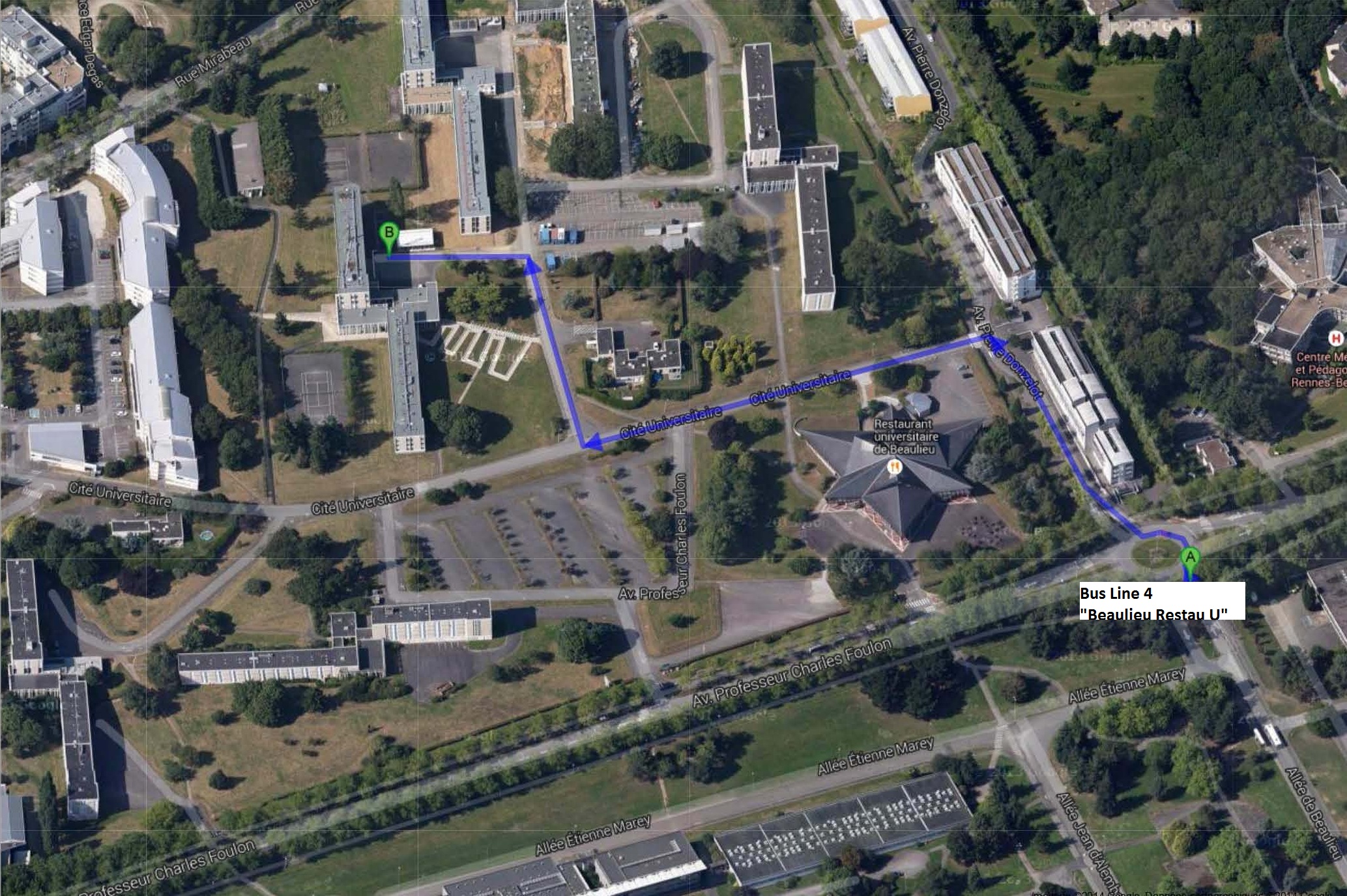 For three nights (June 30th - July 3rd): 95 euros (including breakfast).
For four nights (June 29th - July 3rd or June 30th - July 4th ): 125 euros (including breakfast only on June 30th - July 3rd).
For five nights (June 29th - July 4th ): 155 euros (including breakfast only on June 30th - July 3rd).
If you forgot to book a room at the university residence during your registration, you can update your account: please go to:
http://ischa.sciencesconf.org/myspace
Login, then go to "Registration", then "modify data" fill the appropriate lines, then "overview" and "modify" You will receive an email with the new datas.